Training Course Information
Training is offered to people in the automotive industry.
Having a panel beating or spray painting trade behind you means that your are already half way there with the skills and knowledge that will make you a successful PDR technician.
You will be trained personally by Brent who is a qualified tradesman with over 40 years experience in the collision repair industry.

Brent is an expert in PDR and fully understands the skills required to become a successful technician.

Training will take place over 5 days.

The basics of how PDR works can be achieved in this time frame.
The training is one on one only.
Included in the price is our personally selected tool set and lighting system; don't waste your money buying a master tool kit as a significant number of the tools you won't use.
On-going support will be provided including a full day spent with you, at no extra cost, within the first 6 months of you completing the training course.
Course Dates and Location
At your workshop anywhere in New Zealand

you will receive the knowledge and skills required to become a successful PDR Technician with one of New Zealand's most experienced paintless dent removal experts.
Option One is a comprehensive 5 day course at your workshop anywhere in New Zealand.
Option Two is a comprehensive 5 day course at our workshop in Christchurch.
What will be covered during training
The use of the fluorescent shop light and reflector board.
How to use our selected tools.
Types of dents that can be removed by PDR.
How to find the highs and lows of a dent.
How much you can shrink or stretch the metal before paint cracking occurs.
Finishing off techniques.
Hole drilling and plugging and when and how to use these techniques.
Working behind intrusion bars, braces and framework.
Removing dents from doors, guards, bonnets, boots and roofs.
Hail damage repairs.
Large roof repairs.
How long will it take to perfect PDR
After 5 days training you will have the techniques and information that will enable you to remove simple dents.
The time and practice you put in after completing the course is important as it will make you more confident and competent with the size and speed with which you can fix dents.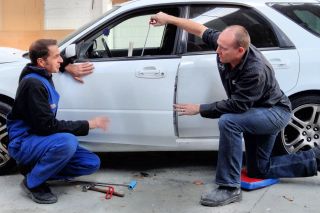 Advanced Training for Hail Damage
Once you have mastered and are confident with the basics of PDR we can upskill and offer an advanced training package for Hail Damage Repairs.
We will also assist you with purchasing the best available hail damage removal tools.
Tool Set
Dentman is working with an overseas, world-class, tool manufacturer and together we have produced a selection of handcrafted tools that are carefully engineered and carry a full lifetime warranty.
The tools we supply will enable you to remove everyday dents when using the PDR system.
Added profits for your shop
Repairs are completed in minutes without the need for filling or painting.
Huge benefits for panel and paint repair centres to be able to provide your own PDR service to private customers and insurance companies.
Insurance assessors are increasingly advising you to use PDR.
PDR will save you time and money.
Payment Costs
Please email or phone Brent to discuss course payment and pricing details.
Tax Deductible
You can claim the GST on your purchases and expenses.
Train in New Zealand, with a kiwi, without the expense and time taken training overseas
Thinking paintless dent removal - think Dentman